Welcome First Responders!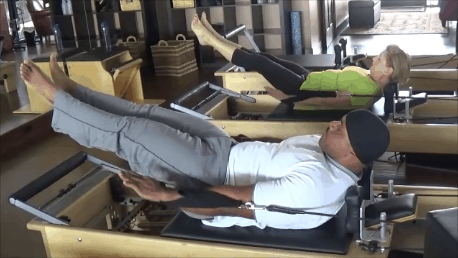 Our Police, Fire and Medical First Responders work hard to keep us all safe. Sometimes that work can pose physical challenges, and effect those who protect and serve emotionally. Pilates exercise is a perfect way to counter these effects physically by lengthening tight muscles, restoring alignment and length of the spine, strengthening and balancing opposing muscle groups, improving circulation and getting oxygen to the muscles, and improving posture, balance and control. Collectively, restoring strength, flexibility, balance, control, and oxygen flow… Pilates exercise enhances mood and general well being.
As a thank you for the job you do, Performance Pilates welcomes First Responders with 10% off all services.  This offer is also extended to all current and former military personel.  To take advantage of this offer contact Michelle or Cody at 713-301-5007 or getpilates@performance-pilates.com.
The following is a recent review from Houston Fire Fighter, Rodney Jones (pictured above).
"I am a 260lbs male Houston FireFighter who started dealing with some significant back issues. My wife recommended that I try pilates to help improve my flexibility that would maybe alleviate some back pain. So, i gave it go and did not think much of it until I actually went through a class. I left in a pool of sweat wondering what just happened. I realized how inflexible I really was. The team at Performance Pilates was very patient with me and realized I had zero background in this type of workout. Cody and Michelle has really developed an amazing studio. I challenge any male or female who thinks pilates is for the weak at heart to work with this team of awesome instructors at this studio. They will dedicate the time and passion to help you achieve a very healthy spine. Pilates has become an medication for my lower back pain,and since training in this studio I have become more flexible that helps me in my job as a firefighter and weightlifter. So, if you are looking for a pilates studio Performance Pilates is the way to go. Rodney Jones, HFD!!!!!"
Cody Robbins | 901-871-8791