Valentines Day: Work Out With A Partner!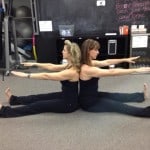 With Valentine's Day 1 week away…time to get the spouse off the couch!  If you're both already up and moving this is a good time to find something fun to participate in together.  Many gyms and boutique studios offer a two- for- one special around Valentine's Day.  You might also find things like 30-Day fitness challenge programs that include training and diet coaching, complete with supplements for one economical price.  Our GTC Gym & Training Center is offering discounts on Family Memberships the Valentines Day, so you can work out with the ones you love.  We have fun in our Pilates mat classes doing all of the exercises with a partner…it can be a spouse or BFF.  Every exercise is performed back-to-back, toe –to-toe, or hand to hand.  It requires a lot of team work, balance, control, tempo and rhythm.  It's really fun and everyone gets a laugh while getting strength with stretch.
Working out with a partner is a really good thing.  You keep each other going.  The motivation can come from just the fun of having good company, or you might challenge each other to go a little further, go faster for longer, lift heavier, stretch more etc.  Just remember if you're working out with your spouse or good friend, choose something you can both do, that's not too overwhelming for one person, or too easy or boring for the other.  Choosing a mind/body modality like Pilates or Yoga is usually a good choice.  Even the strongest body builder can find weakness or tightness which will present a challenge.  At the same time, for the beginner or person new to exercising, mind body exercise can help build strength and stamina safely with modifications when necessary.  Small group Personal Training or semi-private sessions for you and your workout buddy are also a good option.  Working out doesn't have to happen in a gym either.  Grab a friend or someone special and go for a walk in the park.  Show yourself and someone else some love and keep moving!