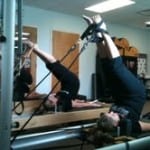 …Cliche' I know, but this year resolve to SUCCEED!   GTC and Performance Pilates have offers to kick start your New Year's Resolution with Pilates AND Personal Training.  See our New Year's Offers  followed by tips for success for your fitness resolution.
*  "Best Of Both Worlds" Special:  2Private Pilates Sessions, 2 Pilates Classes & 2 Personal Training Group Classes.  (New Clients Only) = $120

*  Pilates Introductory Series of 3 Private Sessions PLUS 2 Pilates Classes (New Clients Only) = $149.

* GTC 24-DAY CHALLENGE:  January 8th – 31st… 11 Half Hour Group Personal Training Sessions, Meal Plan, Advocare Nutritional Support = $299
*  1/2 Hour Private Pilates & 1/2 Hour Personal Training:  A 1 hour Private Session that includes Strength Training and Pilates. = $75.
*  1 Private Pilates Session & 1 FREE Pilates Class:  (For Studio Clients currently enrolled in classes or Private Sessions only) =$65
Tips for Success in the "New Year":
1:  Set realistic, attainable Goals:  "Goals" are great.  However if it's a goal of too much too fast, you can easily become discouraged.  If you're looking to lose weight, improve health issues, reduce pain, or just to look better…Start small.  It needs to be a "Lifestyle" adjustment and making  those changes become "habit" can take time.  Remember, consistency is key.
2.  Gain Support:  Inform your family and friends of your health and fitness goals:  If they know what you're trying to accomplish, they will be more likely to consider you're needs during family gatherings, and encourage you to stick with it and be successful.  You just might motivate them to take a jog around the block with you too!
3.  Find something you enjoy doing:  Whether it's a sport, dancing, walking the dog, lifting weights, or your Zumba, or PILATES class, make sure it's something that's fun and challenging…something you enjoy.  If you're having fun, you're much more likely to stick with it longer and participate more frequently.
4.  Celebrate Small Victories!  Take pride in walking or running that 1, 2 or 3 miles on the treadmill…or staying on that high incline for more than one minute.  Losing 2 pounds is better than losing no pounds…losing 1 or 2 pounds adds up over time.  Losing weight slowly with realistic dietary changes and consistent exercise, is far more permanent than a "magic pill".
5.  Get a Trainer or join a class:  If you are just starting an exercise program, GET A PERSONAL TRAINER or INSTRUCTOR in a specialized fitness program.  A little guidance and motivation go a long way.  Learning how to properly use equipment, being challenged and motivated to move forward, and positive feedback will help you stay consistent and learn how to continue to stay fit and healthy on your own.  Joining a Pilates class or Personal Training Group Fitness classes…offered at GTC…are both fun and economical.
Of course we invite you to try Pilates.  If you haven't experienced us yet, we encourage you to try our "Best Of Both" Worlds Special.  In this Package you get to experience Pilates and GTC Personal Training.  For nutrition advice GTC Co-Owner, Christy LeFevre is a registered dietician and Personal Trainer.  Contact Performance Pilates Co-Owner, Cody Robbins with any questions, 901-871-8791.