Jane Seymour does Pilates with Charlie's Angels and Joan Collins
HOLLYWOO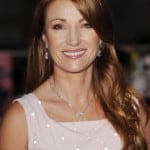 D, Aug. 11 (UPI) — Actress Jane Seymour said she regularly goes to Pilates and some yoga classes near her Hollywood home to keep fit and help her bad back.
The "Live and Let Die" actress the Los Angeles Times she was active as a child because she professionally trained as a ballerina.
A knee injury when she was 16 or 17 years old ended her dancing career and Seymour said she did very little physical activity around that time.
When the actress moved to Hollywood in her mid-20s, she joined a Pilates class with Kate Jackson, Jackie Smith, Farrah Fawcett and Joan Collins.
"That was before anyone knew about Pilates," she said, adding that the workout "is perfect for anyone who has had an injury."
She said Pilates helped her after surgery to repair bulging discs in her back.
"They use it for injured dancers. It's about body alignment, core strength and flexibility. It's an amazing workout," she added.
Seymour said she also likes to fast walk on the beach, play tennis and golf, and goes to Yoga classes on the rare occasion to keep fit.