Shape Up Fort Bend County "Million Pound Challenge"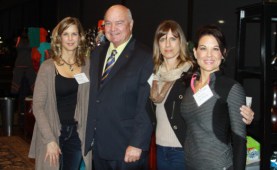 In January Performance Pilates hosted the kick-off for the Shape Up Fort Bend County, Million Pound Challenge. County Judge, Robert Hebert presented a proclamation encouraging and announcing a campaign challenging Fort Bend residents to collectively lose one million pounds.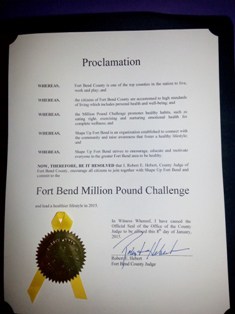 The Million Pound Challenge is a web based program which tracks weight loss plus participants can log other relevant health indicators into their page. The campaign, promoting healthy eating, regular exercise and competition to motivate weight loss, is being coordinated by nonprofit Shape up Fort Bend in alliance with Shape Up Houston. Click HERE for details and instructions to get started!
At Performance Pilates we support those participating in the Million Challenge, and anyone looking to make healthy lifestyle changes, with the "Get Fit Kit". We've joined forces with GTC Fitness in Greatwood to offer an all inclusive "Kit" of Pilates, Personal Training, Gym Membership, and Nutrition Counseling.  The goal is to give those new to exercise a chance to experience EVERYTHING, and to help Million Pound Challenge participants reach their Goals.  The Kit is a program to be completed within 6 weeks valued at over $600 for just $450. Click HERE for more information and to sign up!
What are your health and fitness Goals?  If you write down your goal, take a picture and see it often, you've made the commitment and are on your way to success.  Click HERE to write your goal, and take your Healthy Selfie!